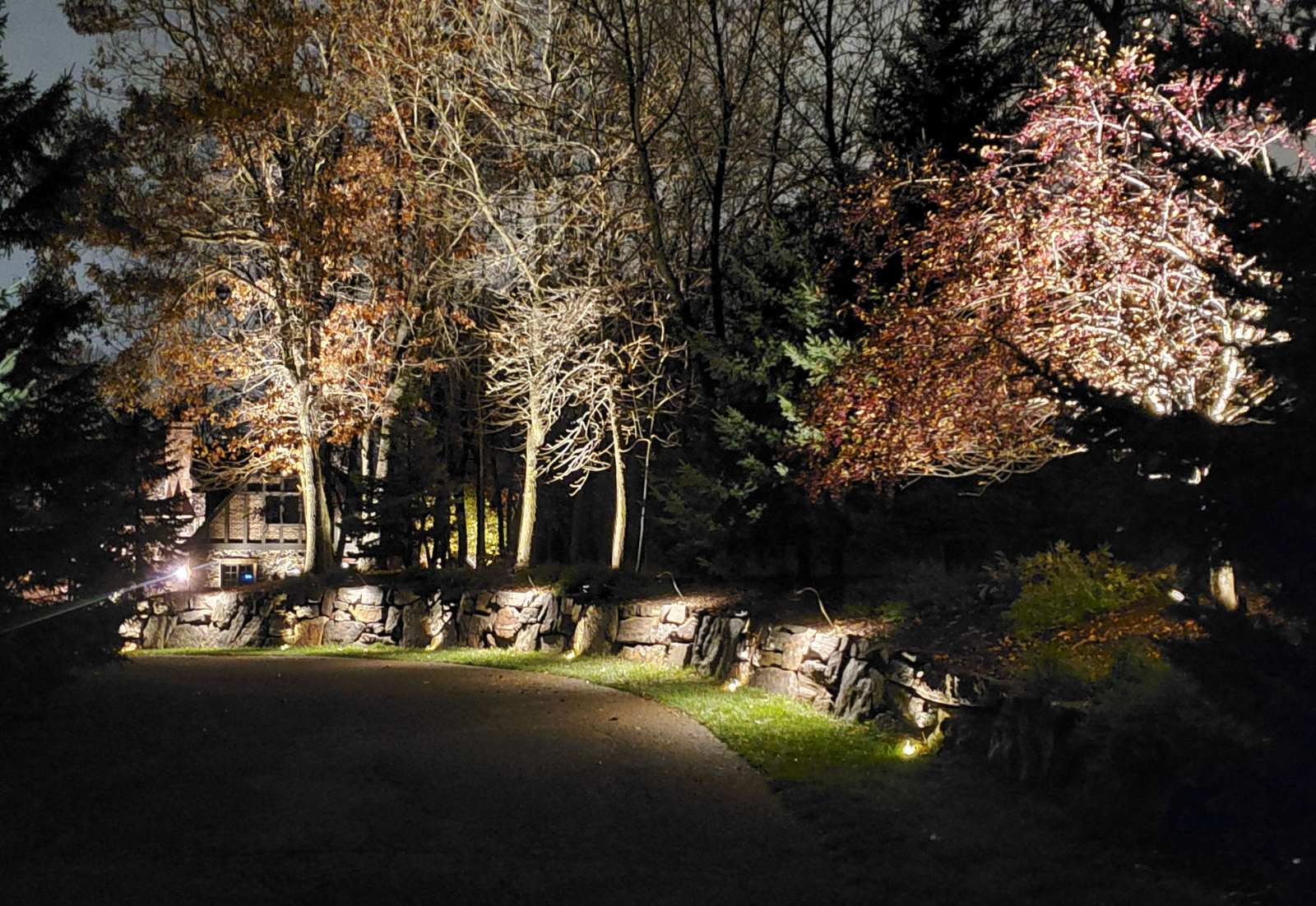 24 Sep

Creating a Fall Outdoor Oasis with Landscape Lighting

The days are getting shorter, the air is becoming crisp, and the leaves are beginning to turn…fall is officially upon us! But the cooler weather and early evenings don't have to keep you from enjoying your yard. With the right landscape lighting, you can turn your backyard into an oasis, a magical gathering place for evenings with friends and family. Get your yard ready for festive fall evenings sipping mulled wine or cider around the fire with these lighting tips. 

Create a Warm, Inviting Atmosphere
With the days getting shorter, it's time to update your landscape lighting so you can enjoy your outdoor living spaces well into the evening. Adding uplights, downlights, or sconces can add a warm, inviting glow to your yard, making it an ideal place for fall entertaining. Landscape lighting like this can highlight your favorite trees, water features, flower beds, or any focal point that you want to draw attention to. It's the perfect way to create a cozy atmosphere that draws guests in and allows them to admire the beauty of your landscaping during evening gatherings. 

Light Up Your Fire Features
Add to or adjust your outdoor lighting to ensure the area around your fire pit or outdoor fireplace is well lit. You don't want a bright spotlight on it — just enough of a soft glow to set the mood and guide guests safely to their seats to enjoy a s'more or two around the fire. 

Adjust Uplights on Trees
While during the summer and early fall you want to use uplights to draw attention to the beauty of the leaves, once those branches are bare the view isn't as lovely. Unless you're going for a spooky look for Halloween, you'll want to adjust the angle of your lighting to hit lower on your trees, showing off the trunk rather than the empty branches. 

Line Pathways with Lighting
A beautifully lit path adds to the magic of an outdoor oasis and provides a welcoming entrance to your yard. And as the night falls sooner and the leaf-covered ground becomes slippery, it's important to keep your walkways and stairways well-lit to avoid falls (and to keep guests from accidentally walking through the flower beds!). For safety, be sure you have enough pathway lighting to provide sufficient light on every part of the walkway or stairway. 

Timers and Solar Lighting 
With the days getting shorter, don't forget to adjust your lighting timer so you don't end up coming home to a dark house. You'll want to set your timer to turn lights on earlier in the evening and leave them on later in the morning. And if you have solar lighting, you may want to supplement it with additional lighting, since it won't have as much of a chance to charge up during the day and will be lit for longer periods of time. Nothing kills a festive mood like your lights running out of charge halfway through dinner!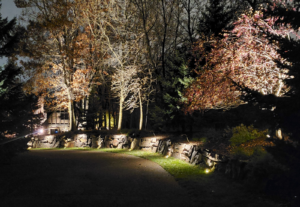 Add Festive Accents
Adding some lighting to your pumpkins, maple leaf wreaths, and other fall decor can boost the festive feel of your outdoor spaces. Consider using string lights to create a diffuse, soft glow under umbrellas or canopies, or strung between the eaves of your home and a covered patio. From plain white orbs to Japanese lanterns to jack-o-lanterns to footballs, whatever your taste you will likely find string lighting to match. Or, add to the festivity with portable decorative lanterns set on tables, stairs, or seating walls. 
Enjoy more time outdoors this fall with ​landscape lighting services​ from Skip's Sprinklers & Outdoor Lighting. Our lighting designers can turn your backyard into an outdoor oasis that you and your guests can't wait to spend time in. Stock up on firewood and wool blankets — your yard is about to become very popular!